Support for the family of Late Sqn Ldr Victor Onyeka Ubah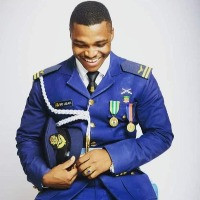 Squadron Leader Victor Onyeka Ubah has gone to rest with the Lord. We will always remember his enthusiasm for life, his jovial personality, his absolute adoration for his family and his unwavering dedication to his career as an Air Force officer.


Victor served his country valiantly and was taken from us on July 5th when a group of bandits ambushed his team while on a peace keeping mission in a treacherous area in Kebbi State, Nigeria. These killings have been ongoing in Nigeria and we are heartbroken that our dear Victor has fallen prey to the injustice he was working to bring an end to.


Unfortunately, Victor leaves behind his wife, Cindy and 2 young sons, Ethan and Lotanna, ages 3 years and 7 months. We are seeking donations to support his wife and kids. Your assistance will be appreciated. Thank you.
Family Support Fund

Help me raise funds for little Ethan and Lotanna's education.

₦211,000

raised

of ₦5,000,000
₦10,000 from Anonymous

1 year ago

₦5,000 from Judith Chinenye

1 year ago

₦10,000 from Nanya Lacy

1 year ago

₦50,000 from Ezinne Ubah

1 year ago

₦5,000 from Adaeze Akuneme

1 year ago

₦1,000 from Herbert Gana

1 year ago

₦10,000 from Anonymous

1 year ago

₦20,000 from Opemipo Sotiloye

1 year ago

₦60,000 from Obinna Ubah

1 year ago

₦20,000 from Obinna Ubah

1 year ago