Help Temidayo Balogun Attend College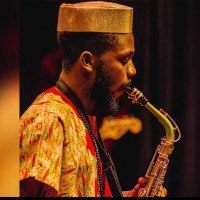 Temidayo Balogun
Organizer
*_The Musician_* Temidayo Balogun , a Nigerian saxophonist ( Whose focus is on Jazz and African music)and a composer. Temidayo started music from his father's church where he was introduced to various percussion instruments like Àgbá mọ́lẹ̀, sẹ̀kẹ̀rẹ̀(shakers), agogo(clave), gangan(talking drum). He is a graduate of Peter king College of Music where he studied The Art of Saxophone and Piano. Thereafter, Muson School of Music where he studied western classical music and jazz. He holds Diploma in Music from Muson School of Music, ABRSM grade 8 and 7 in Saxophone performance and theory of music respectively. Temidayo has performed with musicians of different genres of music like Yinka Davies, Bez Idakula, Tosin Aribasala among others. He also performed at Lagos Jazz series 2017 with the Lagos jazz series quintet, and he is currently a member of The Native Brains, Ope and the stereo choir and Jazz in my room. Last year, Temidayo released two singles Adura Owuro and Abiamo and are all available on all major streaming platforms.

*_The Cause_* Longy School of Music in Boston has admitted Temidayo for his Graduate Performance Diploma in Jazz and Contemporary music. He got a total award of $28,000 and needs to a total of $6000 (N3000000)which will be spent on tuition and accommodation respectively.

*_What we need_* is for you to help Temidayo achieve his goal for his tuition and accommodation. A dollar can go a long way. Funding Temidayo is so important because his goal is to become not just a performer, but also a composer who reflects *AFRICANISM* in his works and also an educator who will help young and talented Africans fulfill their potentials. He has already started an initiative called Saxophone Symposium with Temidayo Balogun which is a form of Community service to empower young saxophone players.

*_How you can_* help is by funding Temidayo and also get the word out by sharing this link to all your social media applications. Fund Temidayo!

Thanks in advance for your contributions.
₦200,000 from Oluwatosin Balogun

5 months ago

₦5,000 from Chibueze Christian

5 months ago

₦2,000 from Rebecca Adeola

5 months ago

₦5,000 from samuel Taiwo

5 months ago

₦10,000 from Ayomikun Fab

6 months ago

₦5,000 from Oluwatosin Balogun

6 months ago

₦5,000 from Emmanuel Segun Philip

6 months ago

₦2,000 from Omotayo Awomolo-Enujiugha

6 months ago

₦1,000 from Amosuro Abiodun

6 months ago

₦3,000 from Zosu Ebenezer Adebowale

6 months ago