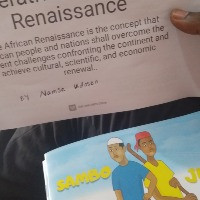 Objectives of the Project
To promote collaboration among various creatives for local content based educational resources development
*To improve the creativity in the production of books and educational resources for children in Kaduna.

*To get individuals and corporate organizations contribute to literacy development in Nigeria

*To produce quality reading materials with local content for pupils in Kaduna state
We hope to distribute 10,000 copies of books to children in public schools in the first phase.
How You may Support
Sponsor Print runs for the books and distribution to any community. We estimate that a copy of each book can be printed for 1,000 Naira.
Books for kids

I want to gift a thousand books to children in public schools in Kaduna.

₦51,000

raised

of ₦400,000
₦10,000 from Elina Augustine

9 months ago

₦5,000 from Anonymous

10 months ago

₦5,000 from Ekombong Ugwu

11 months ago

₦1,000 from Richard Dambo

1 year ago

₦1,500 from Bolaji Fani

1 year ago

₦1,000 from Ebuka Onuigbo

1 year ago

₦3,000 from Iliya Kambai Dennis

1 year ago

₦3,000 from Moesha M

1 year ago

₦10,000 from Precious and Grace Idim

1 year ago

₦500 from Julius Joshua

1 year ago